DIM SEED
Journalist
43 years old. American journalist, special correspondent for the World Chronicle, an influential Democrat-aligned newspaper. Dim's mother is Greek and he speaks that language fluently. His upbringing in the Orthodox Church has brought him close to the Slavic world. Many in the United States are worried about the fate of relatives in the Balkans, shaken by successive wars. Dim is sent to this region by his paper in 1914.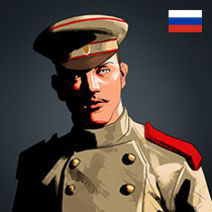 HOWARD KUMER
Photographer
39 years old. A freelance photographer from Chicago, he travels the world in search of evermore powerful images. In 1913, he accepts a job with the World Chronicleto accompany reporter Dim Seed to Europe, even though he has never liked working with or taking orders from someone else. But Dim Seed is one of his favourite reporters, and the Balkans, their final destination, is the kind of powder keg Howard loves.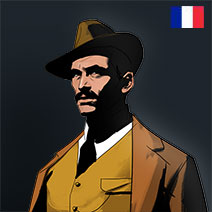 ALBERT AMMAS
Cameraman
36 years old. A Frenchman from Tunis, passionate about science and technology, he first worked as cameraman for Pathé films, and later joined the newly created cinematography unit of the French army to film the conflict. On one of his missions to the Middle East, Albert meets American journalists Dim Seed and Howard Kumer, and their Canadian assistant, Rose Dubois. Joining forces to take advantage of their diversified origins, nationalities, languages and legal status, the four manage to penetrate sensitive war zones.
ROSE DUBOIS
Archivist
22 years old. A Canadian archivist. Thanks to her excellent writing skills, flawless spelling, and fluency in English and French, she is hired by the World Chronicleto be an assistant to Dim Seed and follow him in covering the conflict.
ERNST RÖCKEL
Artist
34 years old. The sensitive youngest son of a family of Jewish goldsmiths in Frankfurt, Ernst moved to Berlin to study art and theatre. He works as a set designer at the opera house, and in summer, at the annual Bayreuth Festival, in Bavaria, dedicated to the works of Richard Wagner, who happens to be the father of Ernst's best friend, Siegfried. This circumstance has made Ernst an unwitting participant in the creation of the German nationalist myth. In 1914, he is called up to enlist, even though he thought he would avoid fighting in the war because of his connections.
LOUISE MASSON
Nurse
20 years old. Louise is the adopted daughter of a wealthy French Canadian family, owners of a department store on St. Joseph Street in Quebec City. Due to her Huron blood, she was made to feel different during the years she studied at the Ursuline Convent. She loves French culture. To escape from the marriage her parents planned for her, she enlisted as an army nurse for the French Canadian volunteer hospitals established byDr.Mignault and quickly became Lieutenant Louise Masson.
JAMES CORCORAN
Fisherman
20 years old. James is a fisherman from Newfoundland, where his grandparents had immigrated to escape the Irish potato famine. Another branch of the family had gone to New Zealand. After the poor results of the fishing season at home, the lure of army pay convinced James to join the Newfoundland Regiment.
MARGOT & CATULLE WYCKERSLOOT
Children's war
12 years old at the start of the war. The twins live on a hog farm where they were born, on the French side of the Franco-Belgian border. They have two younger sisters and an older brother, Sébastien,18 years old, who has been called up for combat in August 1914, as was their father. Their mother is taking care of the four children by herself and has refused to leave the family farm, even as the fighting draws nearer.
VASSILI GODOVKIN
Poet
28 years old. A soldier in the Tsar's army, he is also a poet. In 1905, he received the Order of Saint George during the war against Japan. He has travelled to Africa, India, and France. A handsome, flamboyant, contradictory character, he is the darling of the literary salons of St. Petersburg. His family is now poor, ruined by Godovkin Senior's ill-advised investments. Since his father's death from tuberculosis, Vassili has been struggling to provide for his mother and his younger sister, Tania.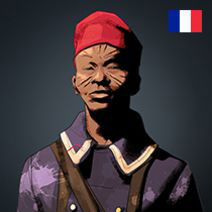 ISMAËL TANGARÉ
Smith
22 years old. Ismaël is a young blacksmith from the Bambara ethnic group, andthe lead drummer in his village. In 1915, he enlists in the French infantry called Tirailleur Sénégalais, leaving his West African homeland to fight in the north of France at a time of increasing anti-colonial sentiment in Africa, even in his own family.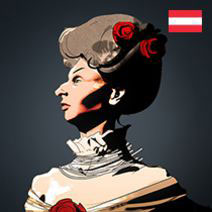 ELISABETH VON WERDENBERG
Diplomate's wife
54 years old, Austrian, Elisabeth is a lady-in-waiting to Sophie Chotek, the wife of Archduke Franz Ferdinand, the heir to the Austro-Hungarian throne. Her husband Rudolf is a diplomat close to Count Berchtold, the minister of foreign affairs. Rudolf has represented the Empire in Geneva since 1913; Elisabeth travels back and forth between the Viennese court and neutral Switzerland. Their son, Leothar, is an army officer.
ÉMILIEN & HECTOR MEYSENOT
Farmer & Engineer
Originaires de Chabestan, dans les Hautes-Alpes en France, issus d'une famille d'agriculteurs éleveurs, Émilien est resté à la ferme alors que son frère Hector est devenu ingénieur. Respectivement 21 et 30 ans quand la guerre éclate, Émilien est appelé sous les drapeaux, alors qu'Hector n'est pas mobilisé de par ses fonctions dans un domaine sensible. Il vient d'être engagé dans un centre de recherches qui développe des dérivés chlorés pour l'industrie militaire…
VERA PRINGLE
Student
23 years old, a British university student. She would have liked to have been born a boy to enter politics, the great passion of all the members of her family. Her father plays an important role in Parliament, her mother is a committed suffragette, and her brother hopes to become a diplomat. During the events of summer 1914, the family living room seems like a House of Commons in miniature.